The Dow Jones Industrial Average has climbed by over 1,000 points in the past two weeks.  Durable goods orders are up.  Housing starts as well as houses sold are up.
Typically, when the market hits a bottom and then starts to rebound, the recession will end in six months.  Of course, this is not a "typical" recession and past historical trends are never a guarantee of future results.
Yet, combine the recent rise in the stock market with the other factors that I mentioned above, and I think we have good reason to be optimistic that recovery is now under way.
This doesnt mean that we are out of the woods yet, or that things are going to magically get better over night.  In fact, the economy will probably shed another 1-2 million jobs or more before it begins adding them.  Still, the economy is fixing itself.
This is what recessions and recoveries have looked like since World War II (notice how our current one is not nearly happening as quickly, no as bad as most other recessions):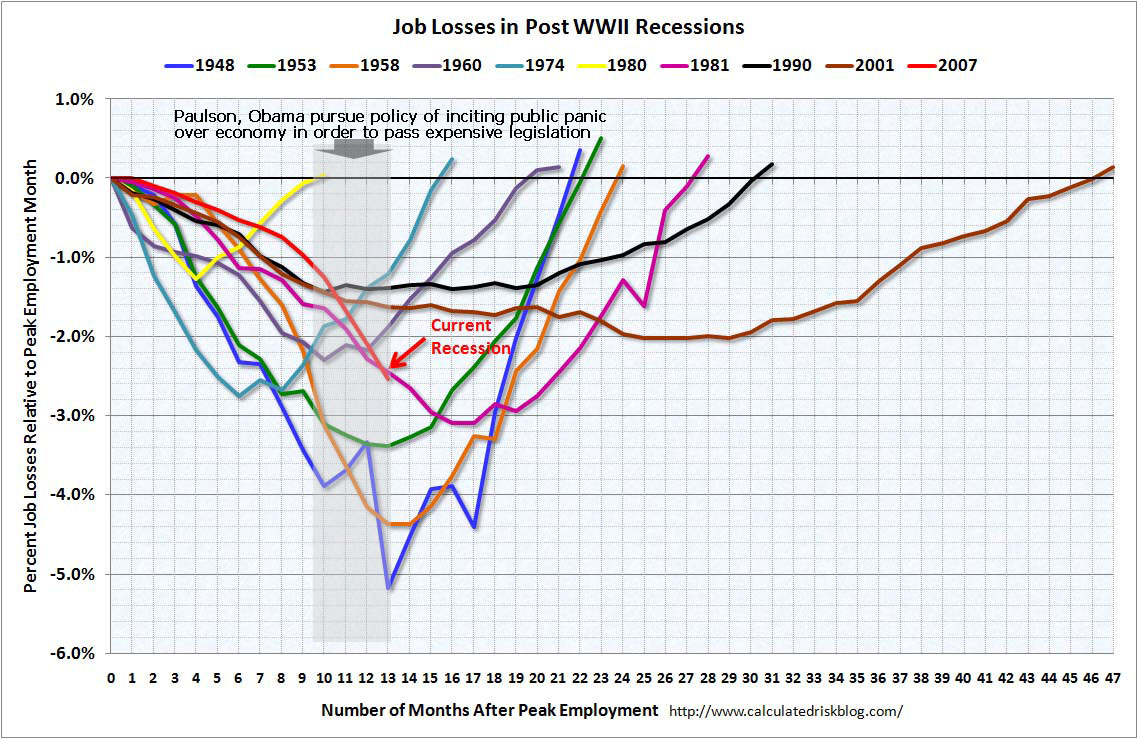 This is occurring despite government intervention, not because of it.  Markets are very powerful and they will always find a way to bounce back.
The massive "stimulus" bill passed by Congress last month was $787,000,000,000 [$787 billion] in size.  Very little of this money has been spent so far, and in fact the vast majority of this money is to be spent in 2010 and beyond (23% of the money will be spent in 2009 and 51% in 2010).  This bill is very costly and is being financed completely with debt that Americans will have to pay back in the future–with interest.
Members of Congress had only 10 hours to read the final bill before they were required to vote on the bill which was over 1,000 pages in length.This bill was passed by Congress urgently under the assumption that it was necessary that the bill be passed quickly.  I still dont understand why such urgency was required for a spending bill that wasnt going to spend most of its money for until the following year.
Well, now the economy is beginning to recover–before the "stimulus" has been spent.  As I have written several times before, both the CBO and the Federal Reserve are now saying that the recession will be over in late 2009 or early 2010 at the latest.  Even if their "latest" estimate is correct, the recession will have ended before the vast majority of the "stimulus" money is spent.  Because this bill is so costly, and because there is no need for an economic stimulus in a growing economy (which the experts say we will have by this time next year), I urge Congress to repeal the "stimulus" bill.
If the bill is not repealed, then Congress is in effect forcing the American people to borrow money to buy something costly that we dont need.  The economy will recover with or without the "stimulus" bill.  The difference is that if we allow it to recover without the costly bill, our future will not be [as] burdened by debt.
Americanly Yours,
Phred Barnet
Please help me promote my site: